Who Wants to Be a Millionaire is no more....(Taken from the Guardian site). The last series was pretty darn abysmal!
ITV is to axe Who Wants To Be A Millionaire after Tarrant bows out
Million-pound TV quiz to end after 15 years as host Tarrant calls it a day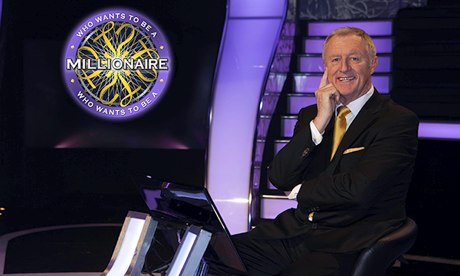 Who Wants To Be A Millionaire is to be axed after Chris Tarrant said he wanted to step down as the TV quiz's host, announcing: "It's time to take a break."
The 67-year-old has been with the show since its launch in 1998 and said he had reached a point where he wanted to call it a day. ITV has said there will be no further specials beyond the ones which have already been planned.
The groundbreaking show was the first to offer a million-pound prize, even if it was rarely reached, and became a major global hit, inspiring the Oscar-winning blockbuster Slumdog Millionaire.
Announcing his departure in a statement, Tarrant said: "It's been a huge part of my life for 15 years and I've loved every minute of it, but it is time for me to move on from Who Wants to Be a Millionaire.
"It's been the most remarkable journey and I consider myself very fortunate to have been associated with Millionaire from its inception.
"ITV have been fantastic in their support from day one and to see its huge success has been thrilling."
The show was a hit when it launched, appearing daily on ITV with Tarrant proving to be a master of building tension.
In recent years, it has been used more as a platform for fundraising celebrity specials.
Tarrant went on: "The calibre of the celebrities like Sir Paul McCartney, George Michael, Sir Alex Ferguson, Simon Cowell, Sir Tim Rice, Sir Terry Wogan, Jonathan Ross, Davina McCall, Stephen Fry, Matt Lucas, etc, is just one indication of how much this show has touched a nerve with everybody.
"But of course so much more rewarding for all of us has been, not just the celebrities or even the million-pound winners, but all of the ordinary men and women whose lives have been changed - sometimes forever - by being on the show.
"Thank you all for sitting opposite me. I am privileged to have been a part of it, but do now feel that it is time for me to call it a day."
Referring to his cliffhanger catchphrase from the show, he said: "I've worked ridiculously hard these last few years and to quote myself, 'It's time to take a break.'"