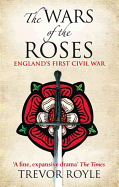 Covering one of the most interesting, and my personal favourite, eras of British History this book has had me gripped for the past week. Trevor Royle has a solid body of work behind him but this is perhaps his finest yet. The War of The Roses spans the infamous conflict between the Houses of York and Lancaster and not only does it talk about the battles and key elements of the war in depth but it also covers the prelude, the hundred years war and British society in general at these times as well as culture, technology and religious issues.
In terms of producing an all round picture of 14th-15th century Britain this works a wonder, using a great format and a consistent focus throughout. Royle always avoids rambling and provides key facts and events in solid chapters and interesting references. The book never slows down for a minute and in the 400-ish pages covers so much you will wonder how Royle has managed it!
This was released back in 2009 but having now found its way into the discount book stores I picked it up for only £2.99 and would suggest anyone else with a passing interest in the era does as well! Certainly helps cement those facts for the inevitable quiz questions!