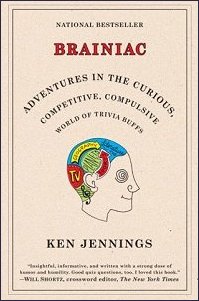 Over the last few days I have read "Brainiac - The Curious, Competitive, Compulsive World of Trivia Buffs" which is a title written by Ken Jennings, of record-breaking Jeopardy fame. It was one of the first books I decided to read on my new kindle,
The title is mainly an investigation of the US Quizzing Scene with Jennings travelling around the country to attend 56-hour radio quiz marathons, plug-and-play tv games against people across the USA and meeting compilers of reference works. This part of the book is very enjoyable and I found it interesting to see the differences and similarities between what I know of the UK scene and our friends across the pond.
Chaptered into the book is is the tale of Ken's run on Jeopardy which broke records and made him a household name. This is also very interesting to read how Ken first auditioned, his opening night nerves and the way he adapted to the long run. Throw in a sample of questions he faced as well as around 170 questions littered throughout the book (with answers on a separate page
Overall though this is a title I would recommended to anyone with a keen interest in trivia and quizzing. Ken clearly has a passion and it comes through throughout the book and reads similar to Marcus Berkmanns Brain Men.
The cheapest format, by a smidge is the paperback in the Amazon Marketplace. Link Below but you can also get it on Kindle for around £7.